PT Timas Oceanstar Indonesia (TOI)'s TRUNOJOYO 01, the newbuilding FPU with gas processing rate up to 175 MMscf/day, was arrived at Madura gas field on 13th September 2022.
Since Gas Turbine Generator (GTG) started with gas to TRUNOJOYO 01 on 17th October 2022, after tight offshore commissioning, OceanSTAR is proud to announce the achievement of first gas milestone on 23th October 2022. It is only 30 days after successful completion of hookup on 24th September.
The achievement of offshore commissioning works and meeting all technical requirements in such a short time was made possible through the great teamwork and effort between TOI team and client. OceanSTAR is also proud to demonstrate our team's expertise and commitment to safety throughout the duration of this project.
Madura Fields are operated by Husky CNOOC Madura Limited (HCML), a joint operating company between China National Offshore Oil Corporation (CNOOC) and Husky Energy, owned by Canada's Cenovus Energy.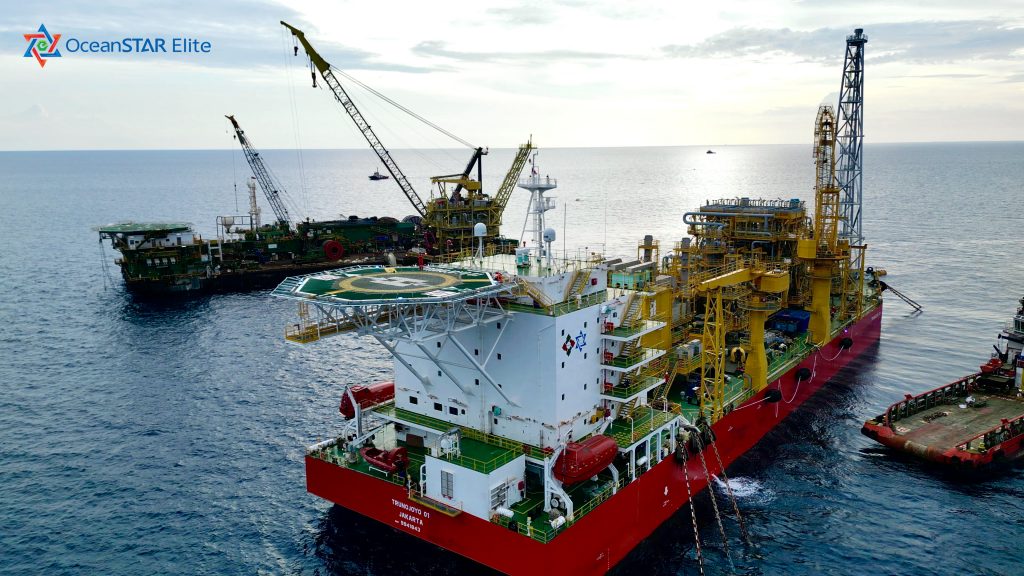 About
OceanSTAR Elite group of companies, including member PT Oceanstar Corp Indonesia, is a leading provider of engineering design and consultation, project management, site survey and production support services in marine & offshore industry.
PT Timas Oceanstar Indonesia ("TOI"), a joint venture between PT Timas Suplindo & PT Oceanstar Corp Indonesia, is established to invest and own the FPU Trunojoyo 01.
PT Timas Suplindo, founded in 1989 as a fabricator and erector of mechanical equipment company, has now transformed and established as one of Indonesian leading onshore & offshore EPCIC contractor.